Vector lights up the Auckland harbour bridge with solar power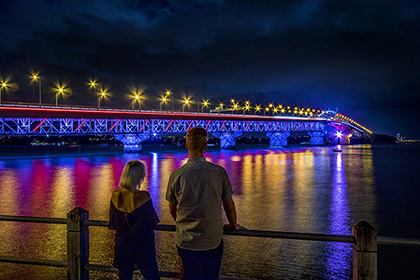 Late January saw the Auckland Harbour Bridge lit up for the first time by Vector, using 90,000 LED lights and 200 floodlights - all solar powered.
The solar energy-powered show references Tama-Nui te Ra (the sun), Hikohiko (electrical energy), and Hei te Ao Marama (the future world of light).

The imagery also pays tribute to Auckland's diverse cultures, including reference to tukutuku panelling, a traditional latticework used by Maori to decorate meeting houses. It is accompanied by sounds of Auckland's cultures, including Polynesian drumming.
It is believed to be the first major bridge in the world to have its lighting come entirely from solar power, from 630 panels installed on top of North Wharf in Wynyard Quarter.