ENA looks back a 100 years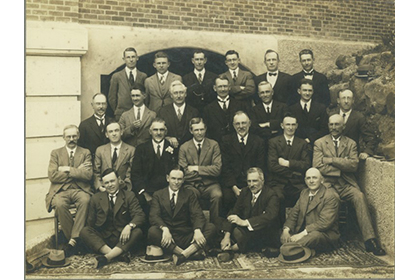 News | 28 September, 2022
ENA has published a brief history of the electricity sector and how its association evolved, with its roots nearly 100 years ago.
The overview starts in the late 19th century when electricity was still a curiosity, touching on the first power station in Reefton and the first regulation of the sector that established the electric power boards.
As demand for electricity grew in the 1920s, the sector started to take shape including the establishment of ENA's predecessor, the Electric Power Boards and Supply Authorities Association of New Zealand. The photo shows attendees at the first annual conference of secretaries held in January 1926.
As the country emerged from the 1930s economic depression, the talk was all of 'load building' – selling electricity in a situation of perceived surplus (from hydro) with extra units available at little marginal cost.
The 1980s and 1990s saw major reforms of the sector, including its structure and governance. For example, in 1985, the two associations – the Electric Power Boards' Association and the Territorial Electrical Authorities' Association – decided to cease operating and leave industry affairs solely with the Electricity Supply Authorities Association.
The passing of the Energy Companies Act in 1992 enabled power boards and supply authorities to change themselves into limited liability companies and issue shares. As a result within a few years, the number of power companies had been cut by half.
A bigger sector transformation occurred in 1998 when the Electricity Industry Reform Act separated the generation and retailing of electricity from the distribution of electricity.
The same year the Electricity Networks Association was incorporated.