Unison's Windsor Substation achieves world-first Living Building Challenge Petal Certification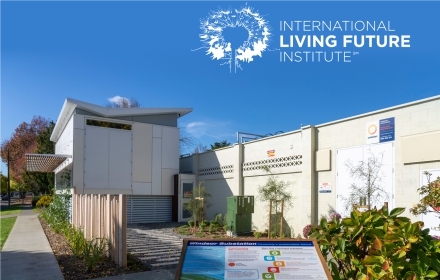 News | 14 September, 2023
Unison is thrilled to announce that its Windsor Substation switchroom has become the first landscape and infrastructure project in the world to receive Living Building Challenge Vs 4.0 Petal Certification through the International Living Future Institute. This ground-breaking achievement demonstrates Unison's commitment to a sustainable energy future and sets a new standard in environmentally-friendly design.
The Windsor Substation, the first of its kind in New Zealand, has been meticulously designed and built to reduce its carbon footprint and utilise eco-friendly materials. What sets this substation apart is its ability to generate its own electricity, capture and store water, and be completely carbon neutral.
Unison Group's CEO, Jaun Park, expresses his immense pride in the team's accomplishments.
"Unison's Windsor Substation is a game-changer in the world of sustainable infrastructure. By setting a new standard and sharing our expertise, Unison is accelerating progress in the industry towards a sustainable energy future, which we hope to inspire further advancements in the field."
"The collaboration between our team and trusted partners Tricia Love Consultants and Architect Charissa Snijders has resulted in a significant feat for Unison. The certification is testament to our commitment to the electricity sector's move towards sustainability and highlights Unison's role in helping the country transition to a zero-carbon future. The construction of this sustainable and modular substation also brings us closer to achieving our decarbonisation goals."
The Windsor Substation adheres to the rigorous philosophy and principles of the Living Building Challenge, the most stringent environmental building design certification in the world. By taking inspiration from nature, these buildings are self-sufficient and enhance the surrounding environment and communities.
Key sustainability features of the Windsor Substation include a reduction of our embodied carbon footprint for primary building materials, achieving a 208% reduction in carbon compared to a typical substation over a 60-year lifetime, or a 363% reduction in carbon emissions compared to a typical substation, solar energy powering with excess energy sent back to the grid, rainwater capture for irrigation, construction using locally sourced and repurposed materials, and the establishment of native habitats.
In an effort to foster progress within the industry, Unison has made the blueprints for the Windsor Substation publicly available, allowing other organisations to benefit from Unison's knowledge and adopt sustainable building techniques.
The blueprints are available for download on Unison's website at unison.co.nz/windsor, after registering your details.
For more information, contact unison.communications@unison.co.nz.
Editor's note:
Unison saw an opportunity to pilot a revolutionary, low-carbon switch-room when the 11kV switchboard at Windsor Substation reached the end of its life. Serving approximately 3,500 residential and commercial accounts in Parkvale, Hastings, this substation is an essential part of Unison's electricity supply system. Traditionally, substations are built without much consideration for the environment. Unison manages and maintains 25 substations in Hawke's Bay.