Wellington Electricity makes progress on seismic strengthening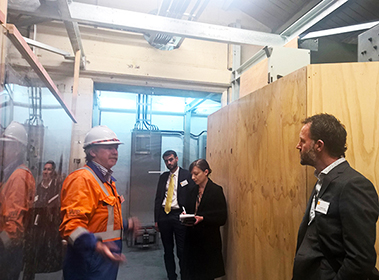 A milestone was marked by Wellington Electricity last week with the completion of seismic remedial work at its Miramar substation as part of its three-year, $31.2 million earthquake preparedness programme.

Reinforcements have been completed to the first five of 91 substation buildings, bringing them to 67 percent of new building standard.
At an event marking the Miramar work's completion, Wellington Electricity chief executive Greg Skelton said they were fortunate to have had a valuable collaboration with Orion, who shared their lessons from the Christchurch earthquake recovery efforts.
Greg was grateful for Orion's willingness to make available their structural engineering staff to advise the programme.

Seismic strengthening work on the small Miramar building was completed within 12-14 weeks at a cost of $108,000, while the substation was live.This mostly involved building an internal steel frame to better tie roof, walls and floor together.

The building was constructed in the 1930s and at one point was part of the power system for trolley buses.The substation is a tie-point for two larger substations that supply power to between 15,000 and 20,000 customers, including Weta Digital. It also provides backup for Wellington airport.