Vector project wins sustainability award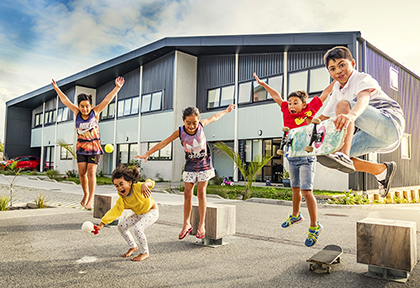 A community where neighbours share clean energy generated on their rooftops has won the Revolutionising Energy award at the Sustainable Business Network Awards, held late November in Auckland.
Developed as a partnership between Auckland distribution company Vector and the Ngāti Whātua Ōrākei property investment arm Whai Rawa, Kāinga Tuatahi is a residential development for first home owners of the hapū. Residents are able to generate, store and share their own clean energy thanks to a networked system of solar panels and battery storage in each of the 30 homes.
Vector CEO Simon Mackenzie said it was gratifying to win the award as it showed how new energy technology coupled with new affordable homes gave people more freedom in how they use, and pay for, energy.
"We're very proud of this project and very excited to have won," he said.
"This is case where a shared vision between Vector and Ngāti Whātua Ōrākei meant we could find a model to make clean energy more accessible to people who might not otherwise have considered it as an option.
"Residents have the potential for lower power bills thanks to the solar and battery systems, and can potentially share excess energy generated on their rooftop with their neighbours. But most exciting of all is that residents now have choices about their energy use as they're no longer passive consumers of electricity.
"I hear reports of individuals timing their energy use around when they can maximise their solar supply, and even neighbourly competitions to see which side of the street can bring their power bills down the furthest.
"It's a clear demonstration of what's possible when you give people the power to choose how to use energy, and I hope we see more projects like this in the future".
Mr Mackenzie said the project also demonstrated Vector's commitment to the UN Sustainable Development Goals, in particular providing access to affordable and clean energy and working in partnership with others.
Ngarimu Blair, a director on the Ngāti Whātua Ōrākei Whai Rawa Board, said the collaboration with Vector provided Ngāti Whātua Ōrākei with a way to meet its overall objectives for the hapū.
"Our goal was to create a community that was self-sufficient as possible, with energy generated on site, a development with minimal impact on the environment. A lot of thought went in to developing innovative and integrated solutions" he said.
"With Vector's help, we have done more than we originally thought possible through the installation of solar panels and Tesla Powerwall batteries at each residence – technologies that would normally be out-of-reach for our first-home buyers."