ENA and members lay out priorities to Commerce Commission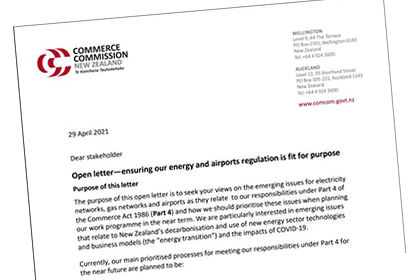 The Commission held a stakeholder workshop in December to drill into the responses to its open letter from earlier in the year around potential changes to Part 4 of the Commerce Act.
April's open letter sought input on what is required to ensure that the regulatory regime under Part 4 remained fit for purpose in light of the current and ongoing evolution of the electricity and gas industries.
ENA and members responded to the open letter setting out the areas where reform was necessary, including the need for new approaches to the development of capital expenditure allowances, the need for customer-driven capital expenditure to be excluded from the IRIS, as well as identifying components of the current regime that will remain fit for purpose.
The Commission requested that each stakeholder detail their three top changes. ENA's top three were:
the need for investment mechanisms to fund decarbonisation
the need for regulatory settings to be flexible (not just reliant on re-openers) and include the pass-through of carbon abatement costs under the Climate Change Response Act
the need to update information disclosures which are out of sync with DPP3 and lack appropriate coverage of DER uptake
Other stakeholders including ENA members also held similar priorities for reform and noted:
the current regime was designed for an industry in a steady state, not one undergoing rapid and irregular change
there will be a radical increase in expenditure (opex and capex) to deliver decarbonisation and respond to climate change
the current regime sees increased capital expenditure as an inefficiency to be punished, where as given the role electrification will play in decarbonisation, it is beneficial from a societal perspective
Commission resourcing needs to be increased to respond to re-openers in a timely manner, alternatively a more streamlined approach needs to be adopted such as contingent allowances or pass-through
investment in infrastructure will need to occur in advance of demand
ENA is hopeful that the Commission will take on board the feedback from ENA and members as it kicks off its information disclosure and input methodologies reviews in 2022.