Second FNF Innovation Forum provides opportunity for input and insights to key initiatives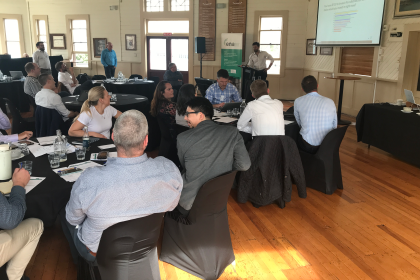 Around 50 EDB representatives, representing 21 of the 27 ENA member companies, and other stakeholders workshopped key questions associated with initiatives being led by the Future Networks Forum (FNF) at this week's second Innovation Forum.
Hosted at Wellington's Star Boat Club by FNF co-chairs James Tipping (Vector market strategy and regulation GM) and Sam Elder (Orion energy futures GM), the event led off with a strategy update from ENA chief executive Tracey Kai.
A briefing on topical political and other sector issues was facilitated by ENA policy and innovation manager Richard Le Gros, followed by updates on the FNF's three workstreams – Outreach with purpose, Exploring strategic context, and Delivering aligned solutions – provided by the respective workstream co-leads.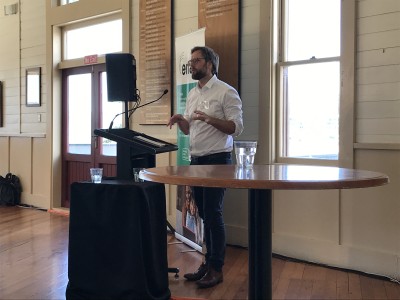 The principle focus of the day was a series of workshops covering active ENA, FNF and externally-led industry projects aimed at delivering a sustainable, affordable and reliable energy future. These included:
Workshops on the key FNF Workstream 2 initiatives – 'customer segmentation' (which asks "who are our customers, and what do they need from us?") and 'future roles and functions' (which asks "what roles, functions and industry architecture are required to enable distributed flexibility?").
Sharing the findings from FNF Workstream 3's survey of EDBs to understand current state, priorities and plans to integrate DER and enable flexibility.
A session with FlexForum members led by FlexForum independent chair Steve Batstone.
An update on ENA's 2050 scenarios project from Toby Stevenson of Sapere, and workshop to explore next steps.
Initial feedback is that the use of breakout groups, both in person and online in MS Teams, and an interactive workshopping tool enabled all attendees to participate fully. The FNF will explore potential to make greater use of such hybrid arrangements in future events.
ENA has uploaded event videos and presentations to the FNF pages on the Members' portal section of its website.
Planning has already begun for a series of FNF Innovation Forums in 2024, with the first expected to be held in February/March. Participation in the FNF and attendance at the forums is open to all members; you will be kept informed of opportunities to take part in these events as dates and venues are finalised.