Gabrielle's power lessons
ENA CEO Graeme Peters on what lines companies learned from February's cyclone

The phone calls started soon after the wind died down. Members of the Electricity Networks Association are ringing. Frustrated, disappointed, angry –  noting how many of their customers are without power. Most homes and businesses are in the dark because trees have fallen into nearby power lines, causing outages from hours to weeks.
The members are aggrieved because they know about half of customer outages during the most recent cyclone would not have happened if fewer trees stood near power lines. They ring their association because it's been saying that government is close to providing a regulatory fix that would reduce tree-related faults. But so far nothing has happened.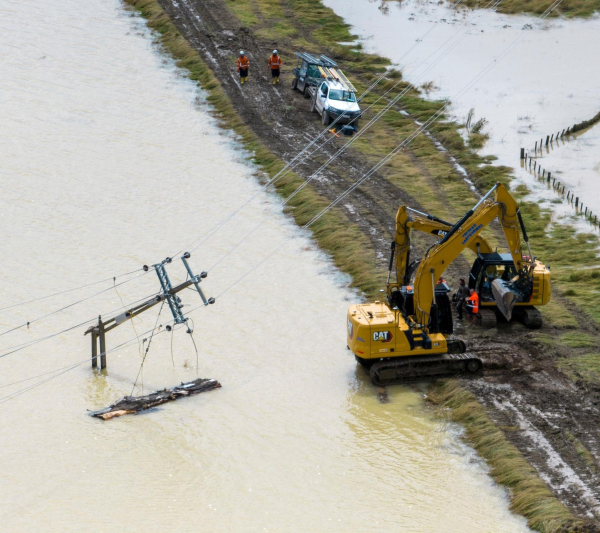 Unison restoring the vital North-Tie power link between Hastings and Napier
1. Better tree regulations
Any summary of lessons from the cyclone leads with trees. Rules on how to manage vegetation near power lines were passed by Cabinet in 2003 and are long overdue for review. They're inadequate in giving the protection that consumers need from trees in their neighborhood falling or flailing into lines.
ENA members are largely in agreement on what better regulations would look like. I won't go into detail on the policy, but it would result in a lot fewer tree-related outages. Yes, lines companies understand that removing or cutting back trees can be controversial. But unnecessary power outages to medically-dependent customers, town centres, schools and hospitals is the result of too many old, diseased, or wind-sensitive trees near power lines.
ENA remains hopeful that the government will review and preferably change the regulations very soon.
2. Spending uplift
The severity of the cyclone, and increasing frequency of adverse weather events, has networks rethinking how much to invest in resilience and climate adaption. The cyclone has demonstrated that networks need to build to a higher physical standard. Entire substations might have to be moved inland or away from rivers. And networks might be reconfigured to enhance reliability by having more robust, meshed rather than radial, design.
Spending plans for the financial year beginning next month are largely set, but in the coming year, networks will be sharpening their pencils on ways to invest to improve resilience. The shopping list might include new grid exit points, which take power from the national grid, or building more capacity into existing lines so they can if necessary assume the load of downed lines.
They are also wanting the Commerce Commission to be more flexible in its approach to setting limits on how much networks can spend helping consumers electrify the economy, while increasing security of the electricity supply.
The Commerce Commission should also show mercy by lifting its cap on the number of minutes that each lines company's customers are without power. The cyclone means many companies will be breaching their average duration limits this year, meaning multi-million-dollar fines. A quality breach investigation requires huge resources better spent elsewhere.
3. Satellite comms
Another lesson was the importance of maintaining communications in and out of a cyclone-battered province. Gabrielle caused slips which broke major fibre lines along roads and over bridges. So, no terrestrial data links were available. Meanwhile, cell phone and communication towers have back up power, but their small batteries last only hours. The scale and length of outages caused by downed trees, slips, or blocked access meant these critical communications towers went dark.
The key lesson for lines companies was to have a satellite back up. They need to communicate with Transpower, government agencies, other lines companies, and access data, such as maps of their networks, from the cloud. Already the message has gone to all lines businesses which don't have satellite data connectivity such as Starlink, Inmarsat or Pivotal, that you need to get it. One of my members had Starlink on a trial basis and said it was enormously helpful in managing the cyclone response.
Meanwhile, communications companies need to invest in bigger batteries or emergency generators.
4. Transport between islands
The unfortunate path of Cyclone Gabrielle meant two thirds of North Island lines companies were severely or moderately affected by its winds and rain. This left only five unaffected North Island companies which could send line mechanics, cable jointers and their trucks to support neighbours. It wasn't enough.
A further 14 lines companies in the South Island had resources available but were frustrated in not immediately being able to get on fully-booked aircraft, or their vehicles on inter-island ferries. While a RNZAF Hercules was made available after a few days, and access to ferries improved, this took too long.
The key lesson is that, in a national emergency, the National Emergency Management Agency must have power to direct airlines, ferries and defence forces to elevate the priority of lines crews and other support transport between islands. These are the first responders to supporting people needing help to restore power and communications links. So, it's vital that they move quickly, and are treated no differently to the movement of police and defence forces.
5. Distributed generation
Distributed generation is also connected to lines companies. But, unlike Transpower distribution, doesn't transmit power over long lines more prone to tree damage. Distribution networks with lines still operating can use distributed generation to maintain power to customers and vital infrastructure in cyclone-affected areas.
The lesson here is that distributed generation – powered by the sun, wind or fossil fuels – is helpful to maintaining power supply and should be encouraged in local communities.
Back-up diesel generators in particular have been used for getting power back to some areas isolated by slips. These need to be refuelled, so another lesson for lines companies is having the ability to helicopter in large quantities of diesel to keep generators running day and night.
6. Keeping customers informed
The final lesson is the most important – it's ensuring good communication with customers, setting realistic expectations and telling customers when these won't be met. Good communication also extended to the media – being available to talk to news channels enabled networks to share messages across their regions, especially through radio to customers with no power.
Finally, it's worth noting the extraordinary, concerted and collaborative electricity lines' sector response in the aftermath of Cyclone Gabrielle. This fully illustrates the calibre and commitment of the people in this industry.
This content was published by Energy News on Tuesday 7 March 2023