Collaboration between lines companies celebrated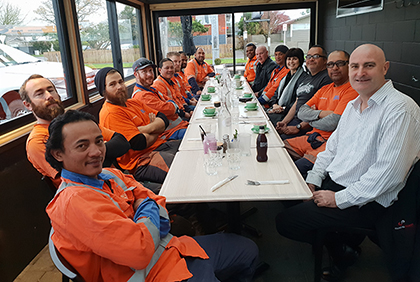 Counties Power officially thanked their southern neighbours, WEL Networks, last week at a breakfast to recognise WEL crews for their storm response assistance.
Severe storms in mid-April took out power to nearly 15,000 properties around the southern Counties region, downing more than 200 lines.
Counties Power appealed to WEL Networks for support with the unprecedented levels of storm damage, with their neighbour supplying lines crews, traffic management and vegetation crews to assist.

Counties Power Chief Executive Judy Nicholl says the immediate response from WEL Networks was greatly appreciated, aiding the Counties Power crews and additional contractors in a massive fault resolution effort.
"This is an excellent example of collaboration between lines companies and sharing expertise and resources in times of need. We took the opportunity to officially thank the teams who assisted today and we look forward to continuing to build our relationship with WEL Networks and work together in future.
"The additional crews supplied ensured momentum was maintained on getting the power flowing as quickly and safely as possible while Counties Power crews stood down for mandatory rest periods.
"We were overwhelmed with the WEL crew's dedication and professionalism, and thank them for their efforts. They are an all-round good bunch."

WEL Service GM Mat O'Neill says they've received extremely positive feedback regarding the support they provided.
"We understand these storm events can be a challenge for everyone involved and we're happy to be able to provide assistance."
A large storm hit the region on April 10 2018, severely damaging the network on the region's west coast with winds in excess of 213 kmh recorded. An additional storm the same week again on the west coast and an electrical storm that damaged network in the middle of the region added further strain on resources.