Unprecedented industry response from lines companies to Cyclone Gabrielle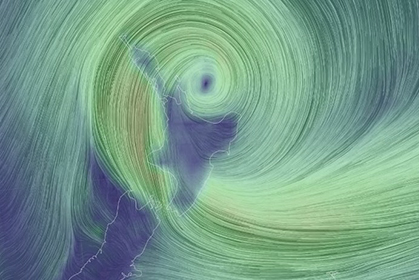 An unprecedented level of industry support and resource is being provided to North Island electricity lines companies whose networks have been devastated by Cyclone Gabrielle.
With power reportedly still out to over 100,000 households, the response from lines companies in unaffected areas around the country has been outstanding, says Electricity Networks Association (ENA) chief executive Graeme Peters.
The ENA is the industry association for New Zealand's 27 electricity distribution businesses, or lines companies.
"ENA members have rallied strongly to send vital resources to help their colleagues in what is an incredibly daunting challenge to restore massively-impacted networks," Peters says.
"The provision of specialist personnel is proving particularly invaluable. These workers are not only able to add to the existing numbers on the ground but are also continuing to repair, replace or oversee when existing crews inevitably have to stand down and rest."
While a high level of collegial support, particularly from neighbouring lines companies, is commonplace in crisis situations, Peters says the nationwide nature of this response has been particularly notable.
"A number of personnel have already been deployed from the South Island and lower North Island with many more coming once issues finding the transport necessary to get teams into position are resolved.
"Our members thank the transport and logistics operators, and the New Zealand Defence Force, who have provided assistance to date and we look forward to continuing to co-operate with them and government agencies who are managing the cyclone response."
Peters says the ENA is aware of the following resources having been made available to affected lines companies to date:
Field crews and line mechanics – one to four crews from each of Otago's Aurora Energy, Horowhenua's Electra, central Hawkes' Bay's Scanpower, Southland's PowerNet, north Canterbury's MainPower and north Otago's Network Waitaki
Control room resource/supervision – two to three highly-specialised personnel from each of Canterbury's Orion, mid Canterbury's EA Networks, MainPower, and Greymouth-based WestPower
Customer support– Orion has offered to take fault and other calls from three networks.
"These are just some examples of the outstanding support being provided from within the sector, and there are many others we are not yet aware of.
"We acknowledge the huge impact the cyclone will be having on consumers and extend our sympathies to all affected. The conditions and damage are unprecedented and the potential restoration times for some will be lengthy, due to the damage and complexity.
"Our members are doing everything in their capacity to restore power safely and as quickly as possible."
"As a final note, we unfortunately don't yet know what resources that Eastland (Tairawhiti) and Unison Networks (Hawkes Bay, Rotorua, and Taupo) need following yesterday's devasting floods. Once we do know, New Zealand lines companies will ensure that help is on the way."